Sing-Along Song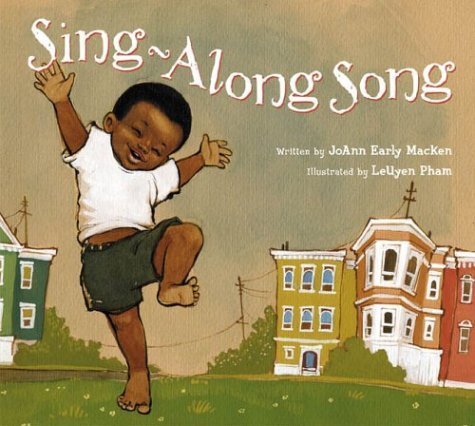 My son Jimmy was a big inspiration for this book. He is always singing, from morning till night.

I started writing Sing-Along Song on one of those glorious spring mornings when every living thing seems to be singing its own song--robins, bees, squirrels, dogs, cats, and people. On a day like that, the only thing to do is sing along!

LeUyen Pham's joyful illustrations capture that feeling perfectly.
The Texas Library Association has chosen Sing-Along Song for the 2005 Texas
2 x 2 Reading List. Twenty titles are chosen that are appropriate for children
from age 2 to grade 2.
"Those who wish to sing always find a song."
--Swedish proverb

"He who sings scares away his woes."
--Miguel de Cervantes, novelist (1547-1616)

"Nature is ever at work building and pulling down, creating and destroying, keeping everything whirling and flowing, allowing no rest but in rhythmical motion, chasing everything in endless song out of one beautiful form into another."
--John Muir, naturalist, explorer, and writer (1838-1914)

"A few minutes ago every tree was excited, bowing to the roaring storm, waving, swirling, tossing their branches in glorious enthusiasm like worship. But though to the outer ear these trees are now silent, their songs never cease."
--John Muir, naturalist and explorer (1838-1914)

September 19, 2004

SING-ALONG SONG By JoAnn Early Macken. Illustrated by LeUyen Pham Viking

"An ebullient toddler, inspired by the robin outside his window, serenades the pleasures and delights of a long, busy summer day. Bubbling, high-spirited illustrations."

From School Library Journal:
(June 1, 2004; 0-670-05890-4)

PreS-Gr 1-From early morning, when he awakens to the chirping of a robin, to evening, when he finally stills his own voice to listen to the moon's soft good night, an exuberant African-American boy joins in the song of the animals and people in his world. "I burst out singin'! I just gotta sing along," he cries each time he hears a bee's "honey-buzzin' song," a squirrel's "chitter-chat song," or his cat's "yowl-meowlin' song." The rhyming language reads like a chant, and the different ditties the little boy sings are presented in large, dark print, inviting readers to chime in. Such melodies as, "Whuffle-snuff, woofle-whiff!/Giggle, sniggle, snort, sniff!" will surely tickle funny bones. Pham's double-page, watercolor-and-ink paintings on textured, sepia-colored backgrounds offer wonderful close-ups of the child interacting with various songsters. Those showing him nose to tongue with his dog or with his finger in his baby sister's fist as he sings her an "I love you" lullaby are particularly charming. The rhythm, repetition, and tongue-twisting silliness of the text and the large, inviting pictures will entice even the youngest listeners to join this chorus.

--Marianne Saccardi, Norwalk Community College, CT Copyright 2004 Reed Business Information.

SING-ALONG SONG
Author: Macken, JoAnn Early
Review Date: MAY 01, 2004
Publisher:Viking
Pages: 32
Price (hardback): $15.99
ISBN (hardback): 0-670-05890-4

This bubbly tribute to the joys of music is narrated by an African-American boy who lives in an old Victorian house with his parents and baby sister. The likable narrator is only three or four years old, but he is definitely a musically oriented child, finding rhythm and musical influences throughout his day from sun-up to bedtime. He describes the sounds of his neighborhood (a robin, bees, a squirrel, his dog, his cat) as well as the cooing of his little sister and actual songs from his parents, followed by the refrain of "I burst out singin'! I just gotta sing along." The bouncy, rhyming text invites a creative read-aloud interpretation with lots of sound effects on the animal sounds, which are emphasized with a creative type treatment. Pham's illustrations bring the cheerful little boy to life, a happy child marching to his own drummer wherever he goes. (Picture book. 3-5)
PreS. Maybe you can't base a whole book on good cheer, but this makes a run at it. The narrator, an exuberant African American child, loves to greet the day, attuned to the ways the animals are doing the same. In a rhyming text that begins with the phrase "Cheery day! Mornin' Sun! / C'mon, wake up, everyone!" the child communes with robins, bees, a bushy-tailed squirrel, his pet sheepdog, his cat, and his family as the day passes, and he sings along with their sounds and chatter, repeating the phrase, "I burst out singin'! / I just gotta sing along." Repetitive it does get, but the text's edges are smoothed by the lively pictures, executed in a soft palette that is marked by shades of rust, cocoa, and tan. Everyone's happy here: family, pets--even the squirrel.

--Ilene Cooper.

Sing-Along Song (Viking, $15.99, 32 pp., Ages 3-6) is a rollicking morning-to-night melody of a picture book, whose illustrations both feed the words and are nourished by the words. Author JoAnn Early Macken's rhythm and rhyme delight young children and their parents, beginning with robin and the rising sun. As a young boy skips into the new day, LeUyen Pham's illustrations follow him, and the creatures he greets, all day long. Later, Daddy gets home from work, Mama sets out the delicious dinner, and baby sister snuggles into bed, while big brother, in the closing pages, wishes on the stars. The reader can hardly wait for the next day, along with the singing child. Macken and Pham's combined talents confirm the sharp eye of a discerning editor and make this charmer a pleasure to sing along with, over and over.

--Meribeth C. Shank