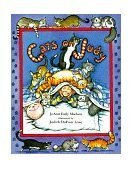 When I was in college, I lived with my twin sister, Judy. I had a dog named Loretta, and Judy had two cats. Loretta always slept on my bed, and the cats always slept on Judy's bed. That little fact was the inspiration for a poem I wrote that eventually became this book.

After I wrote the poem, I saved it for twenty years before I thought of sending it to a publisher. I revised it many times before it was accepted. Finding out it would be published was one of the biggest thrills of my life.

I'm sad to say that Cats on Judy is out of print, but you may still be able to find a copy in the library or at a used book store.